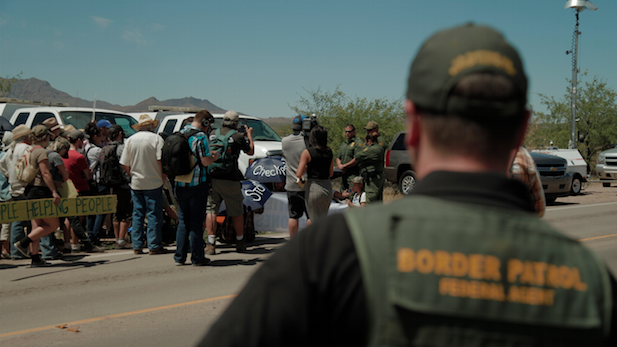 Protesters at the Arivaca Border Patrol checkpoint, May 27, 2015.

Bob Lindberg, AZPM
Arizona residents voiced concerns about border checkpoints near their communities at a U.S. House subcommittee meeting on Tuesday.
Residents of Green Valley say a permanent Border Patrol checkpoint south of the city on Interstate 19 drives criminals into their neighborhoods. People in Douglas and other areas say checkpoints near their communities slow traffic and do nothing to stop smugglers.
The U.S. House's Border and Maritime Security Subcommittee held a hearing on the effectiveness of the checkpoints.
Committee chair Rep. Martha McSally, R-Ariz., questioned how a smuggler can be caught at the permanent checkpoints.
"If you are a hardened cartel operative and you drive through a known Border Patrol checkpoint you should get the Darwin award," McSally said.
Border Patrol officials said they understood the complaints but say the checkpoints work.
"Last year alone, the checkpoints – I think it was around 75,000 pounds of drugs seized. This year we are on track to do that via the checkpoints," said Mark Morgan, Border Patrol chief.
McSally countered that the Border Patrol should put more resources on the actual border, not miles into the United States.
"We cannot cede 10 or 100 miles or more of U.S. territory waiting for these nefarious actors to be caught at the time and place of our choosing. Instead we have to take the fight to them at the earliest point of incursion," she said.
Two Arizona residents who live along the border testified at the committee meeting.
Elyse Golob, the director of the National Center for Border Security and Immigration at the University of Arizona, told the committee the I-19 checkpoint makes area businesses feel as though they must fight the perception that the border is dangerous.
Golob also said communities south of the checkpoint are disproportionately hurt by smugglers trying to circumvent the stop.
Morgan, who took over as the head of Border Patrol two months ago, said he would look into the findings.