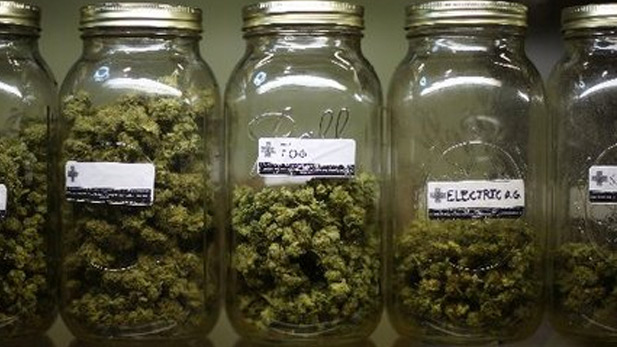 Public domain
A majority of Arizona voters cast their ballots against Proposition 205 on Tuesday, which would have legalized marijuana for adults 21 and over.
In blocking the initiative by a proportion of 52.2 percent to 47.8 percent, they opted not to follow states like California, Massachusetts and Nevada, where recreational marijuana measures passed.
The opposition campaign poured millions into defeating the measure, drawing donations from local business and out-of-state magnates alike, the Associated Press reported.
The 19-page Prop. 205 would have meant recreational marijuana would be sold at state-licensed shops starting March 1, 2018, taxed at 15 percent. A portion of that money was to be allocated to cover the cost of administering and collecting the tax, with additional revenue allocated to K-12 education and substance abuse programs.
"It will significantly change Arizona's laws in ways that will hurt our children, and hurt our communities and certainly make our roads more dangerous," said Yavapai County Attorney Sheila Polk, who lead the main opposition group, Arizonans for Responsible Drug Policy.
At a meeting in Tucson in September, Polk outlined reasons Arizonans should vote no on 205.
Those included the inability for cities and towns ban pot shops or residential production of marijuana, and limitations it would set on lawmakers.
"Prop. 205 will be voter protected if it passes," she said. "That means Governor Ducey can't veto it, the Legislature can't repeal it, and the Legislature can't even fix the problems. Because it's voter protected, the only thing the legislature can do is amend it in ways that 'further its purpose.'"
She also emphasized risks that recreational marijuana would pose to children and teenagers.

"Kids in Colorado now use marijuana at the highest rate in the nation," Polk said, noting that marijuana edibles are barely distinguishable from many kinds of candy.
Opposition also came from some less likely sources, including a group called Arizonans for Mindful Regulation, made up of self-declared marijuana consumers. They said Prop. 205 would not adequately decriminalize use or possession of marijuana. As written, the law would allow up to 12 marijuana plants to be grown in a home. The group said a person caught growing more than that limit could be charged with a felony.
Backers of Prop. 205 said the opposition campaign was disingenuous.
"They are misinforming the voters about Prop. 205 and marijuana in general," said Carlo Alfaro, deputy campaign manager for Arizona's Yes on Prop. 205.
"We have been failing at keeping marijuana out of the schools and off of the streets," he said. "Arresting people is simply not working."
He compared the current policy on marijuana to the prohibition of alcohol.
"Having a regulated system has at least given us tools to know who's buying and who's selling. ... Right now drug dealers don't ask for an ID."
"What we need to do is break the link between marijuana and more dangerous drugs by taking it away from the underground market," said Alfaro.
"The only reason that this legalization campaign is here in this state is because thousands of Arizonans came out and said, 'We agree with ending prohibition and regulating marijuana.'"
Arizona Gov. Doug Ducey, who opposed the measure, said the entities that stand to benefit the most from the proposition's passage are the current pot dispensaries that service Arizona's medical-marijuana cardholders. 
"This is a loser all the way around," he said. "The only people that this helps are the people who are selling the marijuana. They are going to make a lot of money, and we are going to pay the costs."
For their part, supporters of the measure also pointed to conflicting business interests in the opposition. Alfaro noted that Insys Therapeutics, a Chandler-based manufacturer of an opiate painkiller called fentanyl, donated $500,000 to the campaign to defeat the measure.
Legalizing recreational marijuana will cut into the company's business, and that is why it was opposed, Alfaro said.
"Their argument that their campaign is for public health goes out the window," he said. "It is null and void, when they talk about public health because fentanyl is the No. 1 thing – the only thing - that this Chandler company makes. We have a very serious problem with opioid overdose and opioid abuse in the country. "