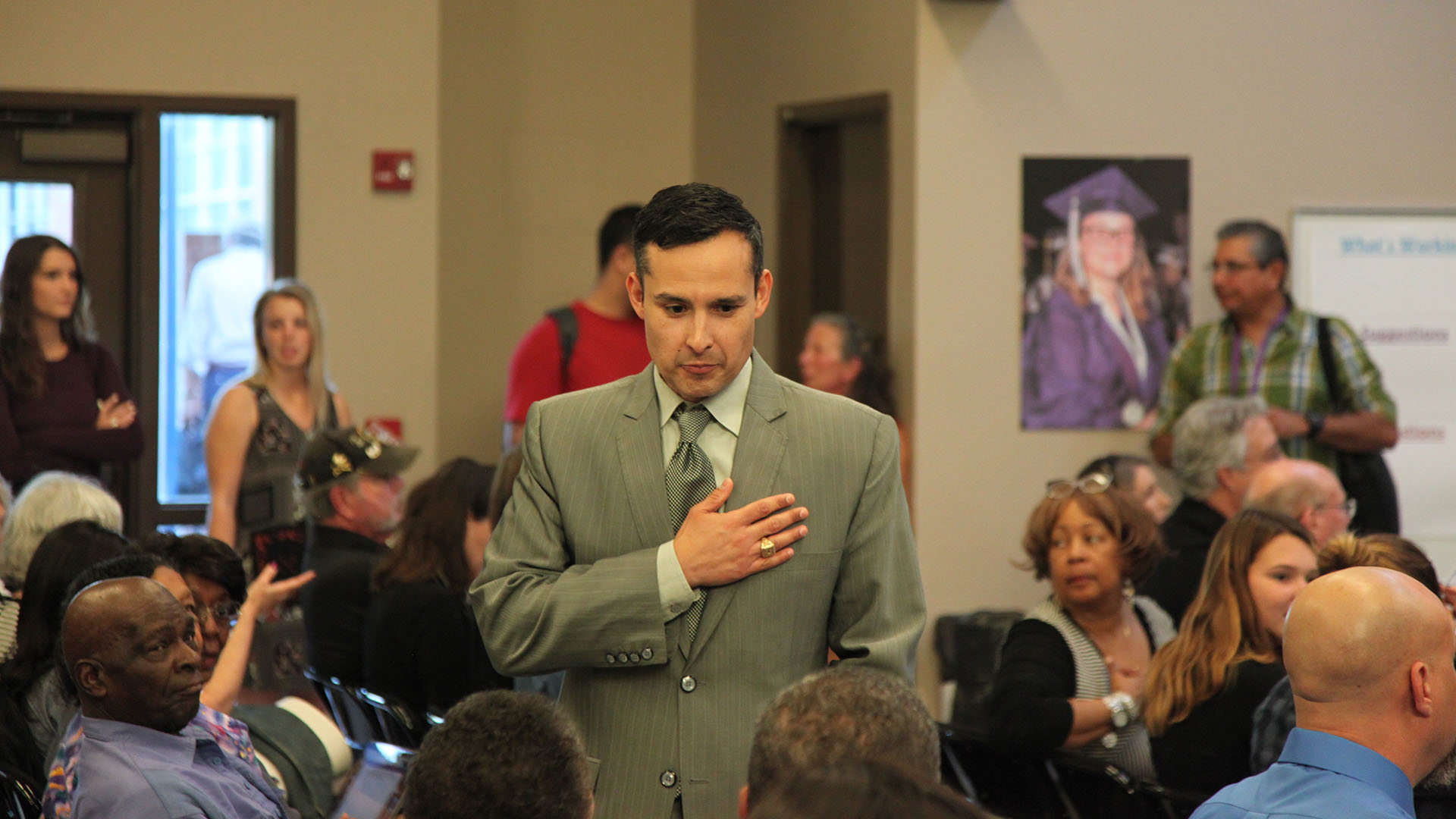 TUSD Superintendent H.T. Sanchez speaks with members of the public at a meeting of the district's Governing Board, Feb. 21, 2017.
Nick O'Gara, AZPM
H.T. Sanchez resigned as superintendent of the Tucson Unified School District Tuesday, just as the school board was preparing to vote on his termination.
Sanchez was not at the meeting, and his resignation was effective immediately.
Board member and supporter Adelita Grijalva, on the short end of a 3-2 vote to accept his resignation, called the action "a witch hunt."
"Whether you liked Dr. Sanchez, whether you agreed with everything that the board did in the last three and a half years, there has been progress made," Grijalva said.
Board member Rachael Sedgwick, whose call two weeks ago for a review of Sanchez's performance started the discussions that led to his eventual departure, said, "We are all here with the best interests of the students in mind."
Sedgwick was in the majority vote to accept Sanchez's resignation. She was elected to the board in November, which swung the majority away from support for Sanchez.
The announcement of the resignation and the vote to accept it came after the board spent nearly two hours in a closed meeting with lawyers. Last week, at another meeting, the board was in closed session with lawyers for nearly three hours before emerging without any decision.
Sedgwick asked two weeks ago that the superintendent's performance be put on the board's meeting agenda for discussion. She was joined in the vote to accept Sanchez's resignation by board members Mike Hicks and Mark Stegeman.
She and other opposing board members accused Sanchez of lack of transparency, financial mismanagement and not bringing about improvement in student performance.
Grijalva, board member Kristel Foster and members of the business community had supported him, saying he was taking the district in the right direction, including in the realm of diversity.
Sanchez was hired as superintendent in 2013, moving from Texas to take the position. He was TUSD's seventh superintendent in the last 17 years. As part of his agreement to resign, he will be paid $200,000.
The board did not discuss the process, cost or a timeline for replacing Sanchez. After the vote, several members of the audience at the board meeting said they wanted to seek a recall of some or all school board members.
TUSD operates 89 elementary, middle and high schools with more than 52,000 students and 6,000 teachers, and it is Southern Arizona's largest public school district.