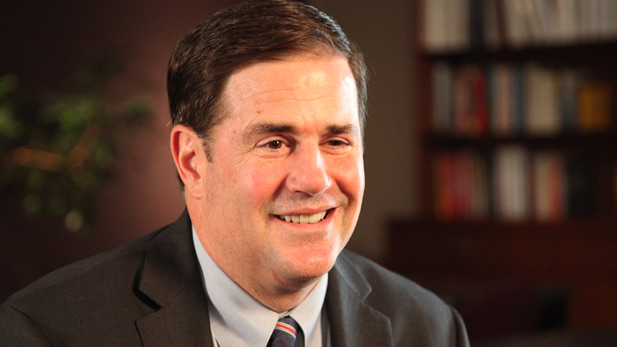 Gov. Doug Ducey, during an interview with AZPM's Lorraine Rivera in September 2015.

Steve Riggs
Listen:
Gov. Doug Ducey revealed last week the formation of a Border Drug Strike Force to curtail heroin smuggling by Mexican drug cartels.
Ducey's announcement at a U.S. Senate hearing in Phoenix raised questions among law-enforcement officials and others about resources, the governor's claims of success so far and how the strike force will operate.
The governor said his goal is to attack Mexican drug cartels that are feeding a rampant U.S. heroin addiction. There is no debate that the country faces a heroin epidemic, and it's not just in the inner cities.
Ninety percent of first-time heroin users are white, and a growing number are middle-class or wealthy, according to the U.S. Centers for Disease Control. The CDC also reported that 75 percent of addicts started with prescription opioids, mostly painkillers, before turning to heroin.

Just five years ago, Afghanistan was the largest supplier of opium used to make heroin coming to the U.S. Today, it is Latin America.
Mexican and U.S. officials have said Mexico's opium production has increased 50 percent in the last decade. Mexican shipments of heroin across Arizona's border are on the rise, to match the country's voracious appetite for the drug.

"It's America's problem, and Arizona is the front door," Ducey said in testimony before the Senate Committee on Governmental Affairs one week ago in Phoenix.
With that, the Republican governor revealed that a Department of Public Safety Border Drug Strike Force had gone quietly into operation this fall. For its short time in existence, he touted big success numbers.
"The Border Strike Force has been in operation for just two months, and already we have seized nearly 19 pounds of heroin, more than the total amount seized over the entire year in 2014," Ducey told the Senate committee.

But one law-enforcement official who knows the border said those heroin seizures should be credited to federal agencies, not the state strike force.
"You know some of these numbers that they came up with and that his task force has been in existence for two months," Santa Cruz County Sheriff Tony Estrada said, laughing. "We didn't know that because as far as I know, this was in discussion, all of this was just being discussed. There was no genuine real plan."
That's because the strike force currently is in search of funding. At a news conference following his Senate testimony last week, the governor said: "We are working on the budget process right now, and you can look at this to be in the range of tens of millions of dollars."

DPS commander Frank Milstead, who will oversee the strike force, acknowledged that it currently has limited scope.
"Right now, we have a major assigned to the strike force as the leadership piece, Maj. Jack Johnson of Southern Arizona," Milstead said at a news conference. "So far, there are no new dollars, no new staffing that is involved with this strike force."
Alessandra Soler, executive director of the Arizona ACLU, accused Ducey of "playing fast and loose" with his seizure statistics as a way to convince the Legislature to fund the program.
"The governor is asking for tens of millions of dollars to be used for this effort, and we really don't have any details on what this program is," Soler said, adding that she is worried about transparency for the public on such an operation.
Soler said Arizona is cash strapped and that funding such an operation is a waste of money and resources. She cited a similar effort in Texas over the last decade.
"What happened in Texas is really an example of how they wasted nearly a billion dollars to send DPS agents to the border, and it was really not helpful to public safety," she said.
Soler said securing the border is a federal mission paid for with federal dollars. If Arizona can find tens of millions in extra funding, it should go to heroin prevention and treatment programs where it will do the most good.
At last week's committee hearing, Sen. John McCain, R-Ariz., agreed that law enforcement alone won't solve the problem.
"We must improve our drug interdiction strategy, but we must also do what's possible to reduce the demand for these drugs," McCain said.
No details about drug-use prevention have been revealed as part of Ducey's plan.