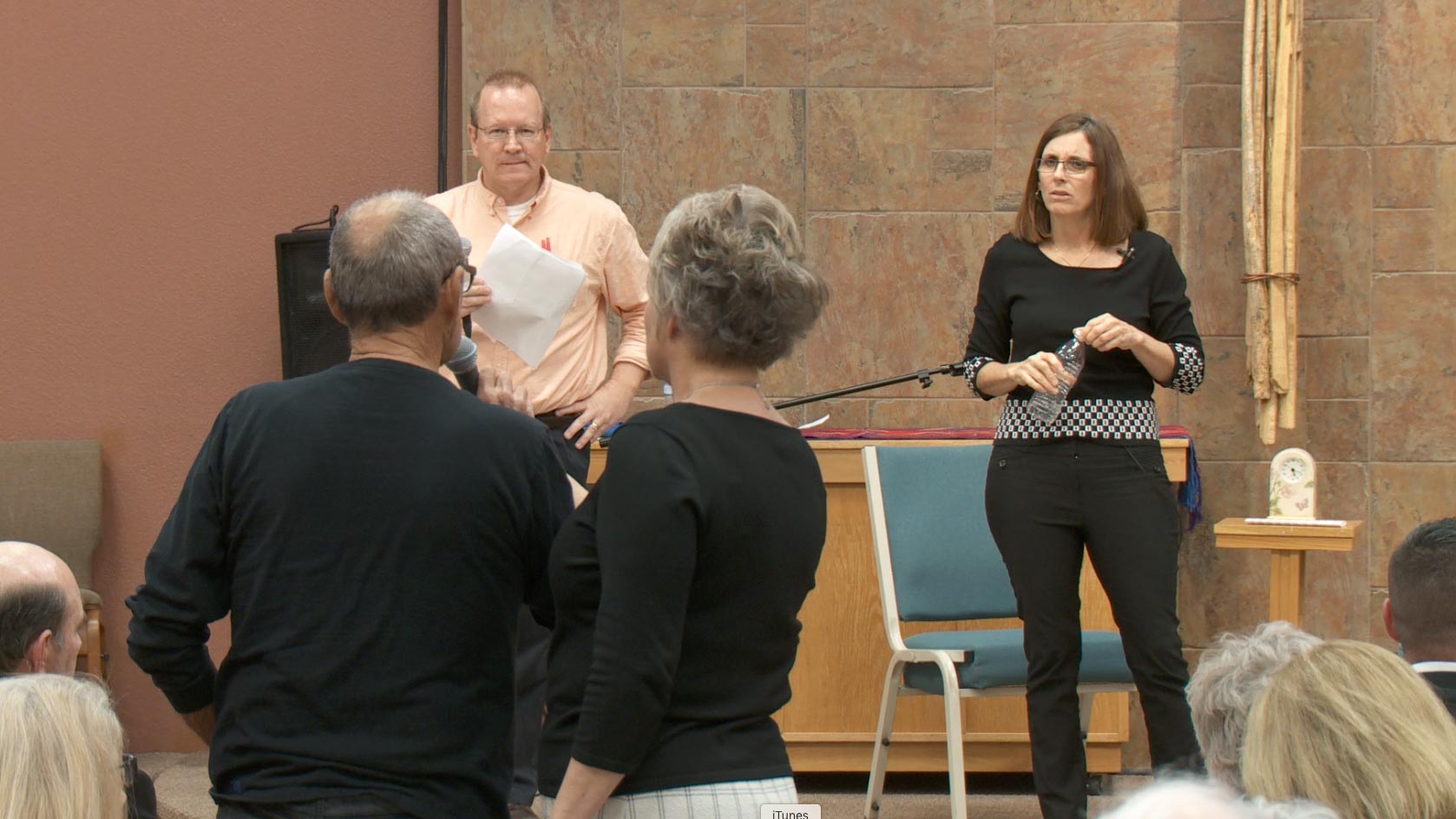 U.S. Rep. Martha McSally (right) and town hall moderator Dan Shearer (left) listen to an audience member's question, Feb. 23, 2017.
Nate Huffman, AZPM
Congresswoman Martha McSally's first in-person town hall of the year Thursday drew a raucous crowd that challenged her on support for President Donald Trump's actions, on immigration and other contentious issues.
McSally, a Tucson Republican who with other members of Congress endured criticism for not meeting with constituents in such settings, said afterward she will do it again, including possibly with a Tucson group she turned down for a town hall also held Thursday.
About 250 people jammed the meeting room at Sahuarita's Good Shepherd United Church of Christ, and hundreds more waited outside, holding signs and chanting.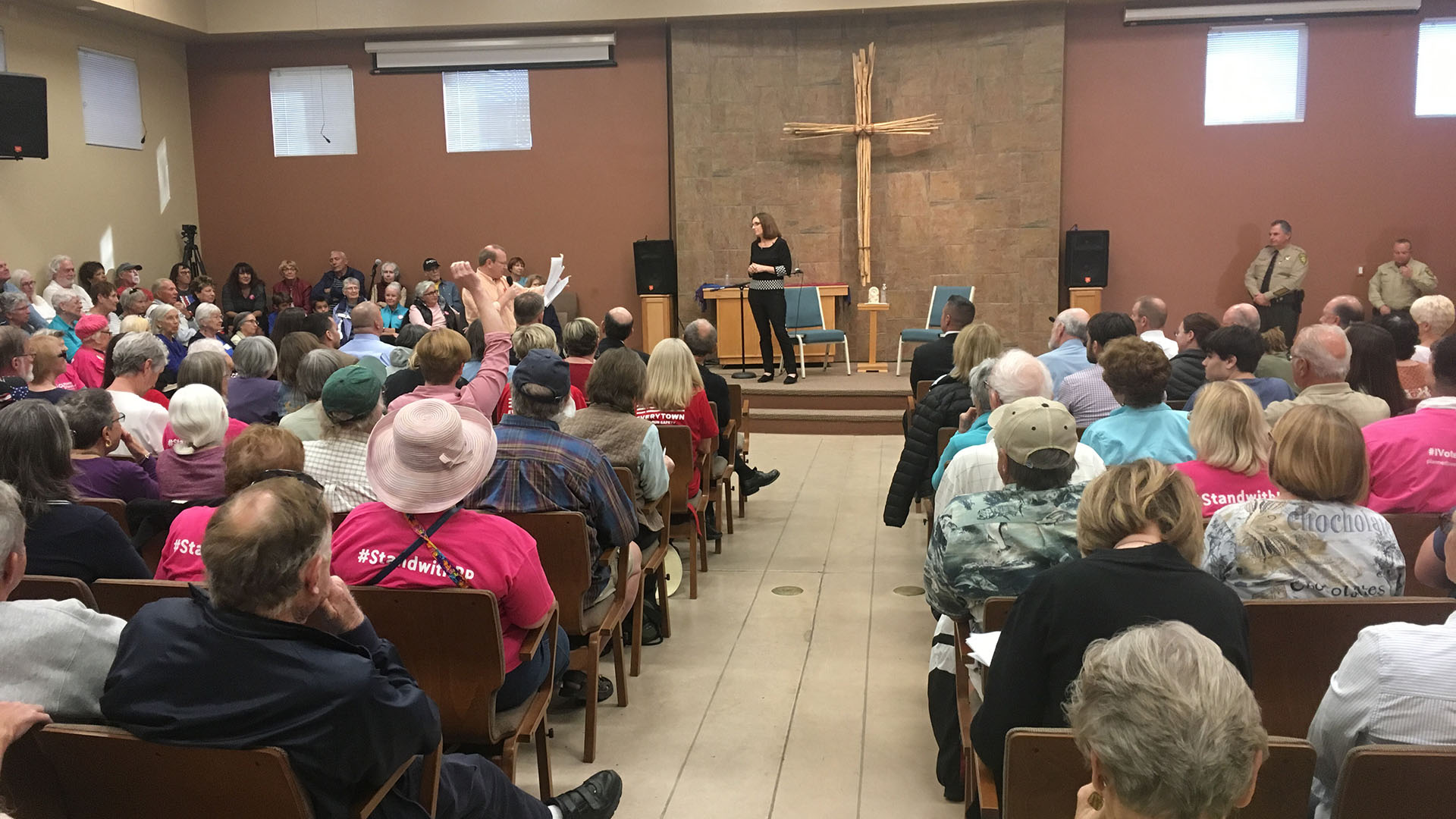 Around 250 people fill the room at a town hall with U.S. Rep. Martha McSally on Feb. 23, 2017.
Christopher Conover, AZPM
Topics at the 90-minute meeting ranged from repeal of the Affordable Care Act to funding for Planned Parenthood. The audience also wanted to talk about immigration and Trump's proposed border wall.
McSally said the president should work with Congress to determine where to add a wall along the U.S.-Mexican border.
"So where appropriate when combined with a better strategy of technology of sensors and manpower at the right places to be able to detect and respond and deter the cartel activity," McSally said. "That is my focus."
As for people in the country illegally, McSally's attempt at a nuanced position was met with boos.
Immigrants want to "make a difference, make a better life for themselves and all aspects of the economic spectrum that are also not taking away jobs for Americans," she said. "So we have to have a smart immigration policy."
Audience member Gabriella Cazares-Kelly, a member of the Tohono O'odham Nation, said she thought McSally did not answer her question about the "militarization" of the border.
"My tribe has 62 miles of that, and I want to know what they are doing specifically, what they are doing to address the cultural, economic and environmental concerns that the Tohono O'odham Nation has," Cazares-Kelly said.
Others also were critical of McSally, saying she did not respond directly.
"There was a lot of dancing around and not really answering the questions," audience member Andre Mixon said. "We wanted to know a lot more in regards to her feelings regarding Trump."
The audience applauded when McSally said she wanted to preserve Social Security and make sure those with pre-existing conditions do not lose their health insurance, a key facet of the Affordable Care Act that she and other Republicans have said they want to repeal.
The Green Valley News and Sahuarita Sun newspapers organized the event. Editor Dan Shearer told the crowd at The Good Shepherd United Church of Christ that he contacted eight other locations before the church agreed to hold the event.
McSally had said days earlier that she was worried a town hall would set her up for a "political ambush." After the town hall she said the shouts and the jeers from the crowd are part of her job.
"Hearing from my constituents even when they are frustrated and yelling is certainly not in the top 100 of the difficult things I've been through in my life," McSally said.
"And as a woman in the military I've certainly dealt with a lot of hostility, and I think having a dialogue and a discussion where we can actually speak back and forth is important."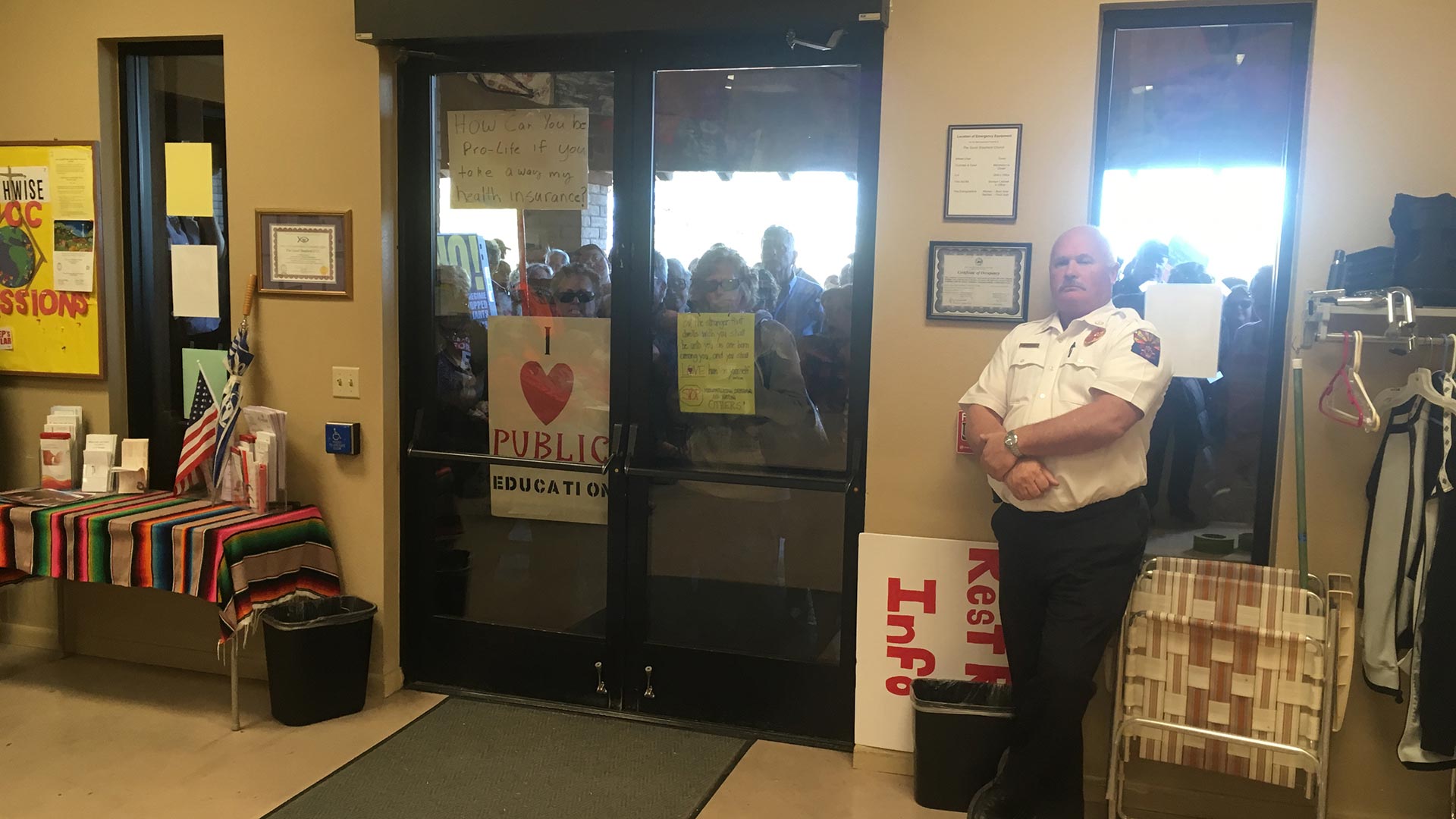 VIEW LARGER Hundreds of people were kept out of Rep. Martha McSally's town hall meeting in Sahuarita on Feb. 23, 2017 after the fire marshall said the room was at capacity.

Christopher Conover, AZPM
She promised more town halls in her 2nd Congressional District, which includes all of Cochise County and parts of Santa Cruz and Pima counties.
"We look forward again to continuing to engage with individuals that I represent that are very diverse in this community," she said. "Again, views were represented here today, but there are many sincerely held views of exactly the opposite of what was heard by most people today in the crowd. And I represent the diversity of that district."
A group held a town hall Thursday night in Tucson, an event to which McSally was invited two weeks ago. She turned it down and the meeting was held any way. McSally said she is still willing to talk to that group.
Her district is among the most politically divided in the nation. It includes mostly Democratic Tucson east of Campbell Avenue and mostly Republican Cochise County and southern Pima County. About one-third of its registered voters are independent.