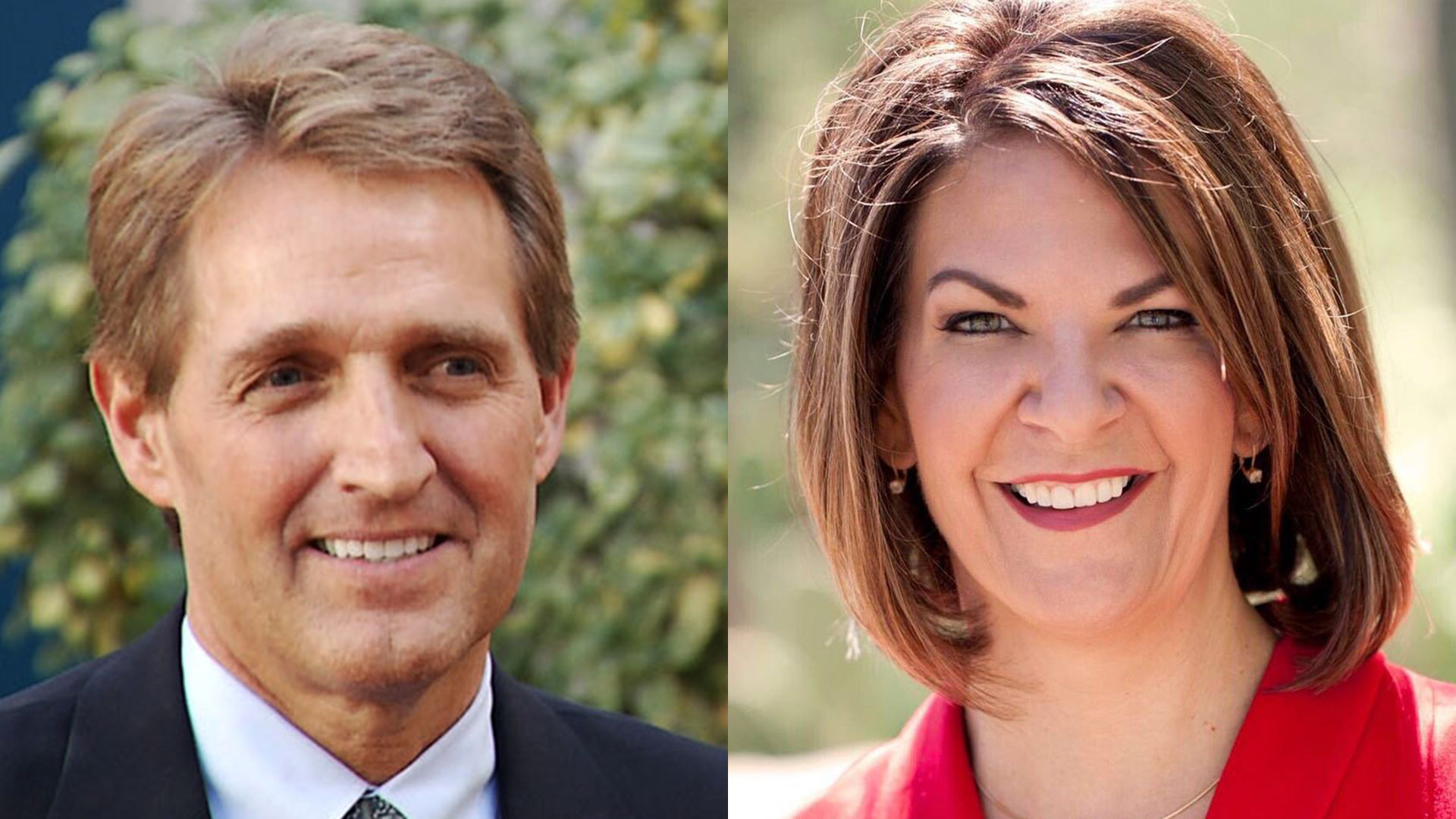 U.S. Sen. Jeff Flake and Kelli Ward, a Republican challenger for his seat.
AZPM, Kelli Ward for U.S. Senate
One year from today, we will know who won the Republican primary for U.S. Senate in Arizona, but in the meantime, money and big names are starting to roll in.
President Donald Trump wouldn't use Sen. Jeff Flake's name in his Phoenix speech last week, but referred to one of Arizona's senators as "weak on borders." The next day he tweeted directly at Flake.
Those comments from the president were quickly made into an ad by Flake's Republican opponent, Kelli Ward.
Flake said he is not bothered by the president's comments.
"I think it is overblown," said Flake to reporters in Tucson.
But the comments may be making a dent. A recent poll by High Ground Public Affairs, a Republican political consulting firm, showed Flake trailing Ward by 14 points.
Chuck Coughlin, founder of High Ground, said the result should not surprise anyone.
"[Flake] is what is traditionally called a principled, Republican conservative. But the populist narrative that has infused the Trump presidency, combined with nativist, anti-immigrant discussion, is at odds with Jeff's view of principled free-market conservatism and trade. So you have a bit of a civil war in the Republican party," said Coughlin.
That "civil war" is playing out in Arizona politics when it comes to Republican opinions.
"I think for those who are studied in Arizona politics, one would be hard pressed not to call either of Arizona's senators conservative. So I think what you are seeing here is a clash between different styles of Republicans," said Kate Kenski, University of Arizona professor of political communications.
The national attention on the Republican Senate primary is not limited to the president.
The Senate Leadership Fund, a political action committee tied to Senate Majority Leader Mitch McConnell, launched an ad branding Ward as "Chem-Trail Kelli."
That moniker harkens back to Ward's primary run against Sen. John McCain in 2016.
Politifact said the "Chem-Trail Kelli" moniker is "mostly false." Nobody expects that to change the name calling anytime soon.
The presidential criticism of Flake and McCain could backfire for the White House, however.
"I think what he is doing in criticizing the senators is probably not going to work in his favor. He ultimately does need their support if he wants to keep his promises," said Samara Klar, University of Arizona political scientist.
"I think it is probably very effective in rallying support among his core group of voters, but what he really needs right now is support among Republican senators," Klar continued.
Republican strategists said it is too early for the Flake campaign to worry. That is especially true if he can help pass signature Republican legislation, like tax reform.
"A year out, there are opportunities to demonstrate that that form of conservatism works and this nihilist point of view that is just opposed or contrarian to everything is not what the senator believes in," said Coughlin.
He added that politics is "an evolving environment."
The Flake campaign is not sitting on its hands. It has launched a promoted Twitter campaign featuring supporters.